Hard drive crash? Need your data? We can save it!
Fireball PC is an authorized partner in DriveSavers' Reseller Program. Mention our Reseller ID # DS67089 and receive a 10% discount on your data recovery!
DriveSavers has specialized in recovering lost data for 20 years and has the highest success rate in the industry. The company recovers data in as little as 24 hours from all operating systems and storage media including hard drives, RAID, disk arrays, servers, floppies, CD-ROM/DVD, backup tapes, flash memory, removable and magneto-optical cartridges. DriveSavers is authorized by all hard drive manufacturers to open sealed drive mechanisms without voiding the original warranty. They are known worldwide as the most trusted and respected company in the industry. Visit their web site at www.drivesavers.com to learn more or:
Call DriveSavers today to receive an immediate estimate: 800-440-1904
Mention our Reseller ID # DS67089 and receive a 10% discount on your data recovery!
Something worth mentioning:

1) There is a slight movement in the insurance industry for both home-owners and renters insurance where they have been covering the cost of data recovery. It is being called "loss of intellectual property" by them. It will probably be described as valuable records and documents. Another section to look over would be in the property/casualty coverage - blanket coverage would include data loss along with the property damage.

For some people it is worth pursuing - nothing ventured, nothing gained. Others are not willing to touch their insurance company for fear of their rates going up. Naturally, this is a very personal decision on a case-by-case basis.
2) If you are a customer that is a State, Federal, or Education entity, please be sure to let our advisors know when calling for a quote. We have government pricing and contracts in place that offer great benefits to these establishments; If a drive is under 200GB, the over all savings with our contract at this time is approximately 27%. Mention our Reseller ID # DS67089 to receive your discount pricing.


Our Experience Is Your Solution
Discover the results of working with a company committed exclusively to data recovery. We combine our 21 years of experience with our innovations in technology to create thousands of customized solutions for clients worldwide.
Authorized by all drive and media manufacturers to maintain original hard drive warranties.


Advanced proprietary hardware and software techniques enable us to recover data others declare is lost forever.


Professional Class 100 clean room provides immaculate conditions to maximize recovery success.


Extensive parts inventory means hardware replacement will never delay or defeat our retrieval efforts.


Fastest standard turnaround time in the industry at 24 to 48 hours, including online file retrieval within minutes after recovery is complete.


Immediate telephone access to professional recovery advisors and engineers — no automated routing system, no waiting on hold.


Firm estimates will never exceed the maximum amount quoted — no up front fee required, no hidden clean room or parts fees ever.


Guaranteed experience with your hardware and software through our exhaustive background in all storage devices and operating systems.
Never assume data is unrecoverable. We've successfully recovered data from thousands of drives with extreme physical damage when others have said data recovery was not possible.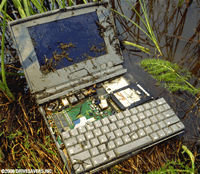 Click on above picture for more data recovery success stories.