Printer and Imaging Resource Center
On-site Printer Repairs, Service, Supplies and Sales. Laser Printer Service, Multifunction Printers, Wide Format Printers, Copiers and FAX Machines

.

Serving Connecticut, Massachusetts, and New York.

Fireball PC Printer Services specializes in Lexmark, Hewlett Packard, Konica/Minolta, Xerox, IBM, Epson, Oki Data and most other brands printer service/repair at competitive prices. Fireball PC is an Authorized printer service provider, offering printer repairs and maintenance service and sales on most makes and models, including HP, Canon, Sharp, Lexmark, Brother, Epson, IBM, Samsung and more.

Our certified technicians provide expert printer repair, service, maintenance, memory upgrades and sale of new printers at discount prices. We offer multiple printer repair discount for on site service in CT and MA..
Printer Service
Printer Repair
Printer Supplies
Managed Printer Services
Maintainance Contracts
Laser Printer Sales
Multi-function Printer Sales
All Service Guaranteed
Laser Toner Replacement
Printer Service Manuals
Fireball PC is dedicated to providing our clients with the best customer service available and also saving our customers money. Listed below, we have posted service manuals for many printers, fax machines, scanners and copiers for reference. Many printer problems can be resolved by reviewing Factory manuals and following the step-by-step instructions, without the expense of sending ot a tech to your site.
Click on the Brand name of printer or fax machine to access service manuals.
Service Manuals are in Adobe PDF format. Click here to download Acrobat 8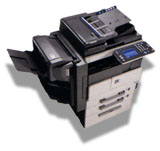 Fireball PC Printer Repair, Maintenance, Service and Solution includes:
printer repairs, printer maintenance, printer maintenance contracts, printer maintenance nationwide cover, all in one printer repairs, printhead repairs, printer servicing, printer service solution, laser printer repairs, laserjet printer repairs, epson printer repair, canon printer repair, hp printer repair, xerox printer repair, tektronix printer repair, lexmark printer repair, brother printer repair, printer and copies sales, fixed price printer repairs, printer consumables, printer spare parts, printer installation, printer repair solution, printer relocation, printing solution advice
We are listed in Connecticut Printer repair Directory at LocalWin.com